India Tourism >> Indian Hotel >>
--»
Thekkady Hotels
Thekkady Hotels
Spice Village Resort, Thekkady
Spice Village is located in the Periyar wilderness, high in the western ghats of Kerala. For centuries, the area attracted voyagers and adventurers, mercenaries and empire builders, kings and merchant princes. Men and women drawn not only by the lure of spices, but by the romance and wild beauty of the land. Periyar Tiger Reserve is a unique, precious eco-system, home to many endangered species of plants and animals.


---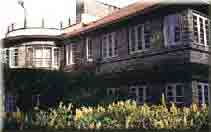 Hotel Aranya Niwas, Thekkady
Located within the Periyar Wildlife Park, the Aranya Niwas Hotel is located on the banks of Periyar Lake. Guests can explore the Periyar Wildlife Sanctuary when they stay at the Aranya Niwas Hotel in Thekkady with Hotels Kerala India.
The Aranya Niwas Hotel Thekkady is built in the style of a colonial hunting lodge. It offers its guests 30 comfortable rooms and one suite. The rooms are equipped with cable television, telephone andattached bathrooms with hot and cold running water. Guest can also enjoy in-house house movies, and shopping at the handicrafts emporium when they stay at the Aranya Niwas Hotel in Thekkady with Hotels Kerala India.
---
Taj Garden Retreat, Thekkady
Situated on a hill, Taj Garden Retreat impart an excellent view of the neighbouring hills, the entire property is nestled within thick woods strewn with flowering shrubs and coffee plants. The hotel comprises of 32 rustic, thatched roof villas located on the periphery of the famous Periyar Wildlife Sanctuary. This charming resort, 2,700 feet above sea level boasts of spacious rooms replete with fine wood décor and adorned by beautiful natural fabrics. The resort allows you to live in the midst of nature in absolute luxury.

The rooms are in cottages built on stilts, with private balconies. All rooms are well furnished with kettles, mini-bar, international direct dial facility, colour television with satellite programmes. All rooms overlook the misty hills or the surrounding lush green foliage.