India Tourism >> Indian Hotel >>
--»
Kovalam Hotels
Kovalam Hotels
The Leela Kovalam Beach Kerala /Kovalam Hotel Resort
The Leela Palaces and Resorts, three of India's finest deluxe hotels, hallmark the essence of India in Bangalore, Goa and Mumbai. The Group has established a global leadership position in the 5-star luxury hotel and resort industry for the world's most discerning business and leisure travellers. The proximity to International airports and central business districts, strategic location, individuality, architectural aesthetics, lush greens and the intrinsic Indian culture and heritage distinguishes the group from the rest. The Leela is committed to striving for excellence and exceeding expectations based on the ancient Indian philosophy that the 'Guest is God'.
---
Somatheeram Beach Resort


This Ayurvedic beach resort has consciously attempted to preserve its natural settings. Guests stay in traditional houses or simple cottages along twisted paths on 13- lush acres above the Sea.

With two doctors, 8 -technicians & a yoga master, Somatheeram is well prepared for stressed out Westerners. Various traditional treatment programs (normally 14 - day sessions) are available, as well as one time treatment. Massage, medicated steam bath etc.


---
Taj Green Cove Resort
Located on one of India's most popular beaches, Kovalam, the property is spread across 10 acres of land, offering a breathtaking view of the backwater, lush landscapes, coconut palms, and unspoiled beaches.
With its exotic tropical beauty and relaxing hospitality, this getaway is the perfect place to enjoy relaxation and rejuvenation of the mind, body, and soul.
Taj Green Cove Resort is located just 12 km from Trivandrum airport and 14 km from the station.
---
Abad Palm shore Resort - kovalam (Trivandrum)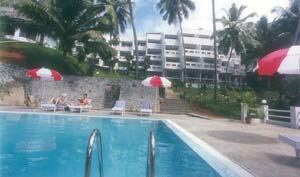 Abad Pal Shore Resort over looks a serene and beautiful area of the world famous palm fringed "Kovalam Beach" having 35 well appointed A/c and Non A/c Deluxe Double room with en-suite facilities, private sun desk, balcony, Television with satellite channels and telephone. All rooms and Restaurants face our exclusive beach, with direct access to the sea.Abad Palmshore Beach Resort is the only beach resort serving soft shell crab dishes. The resort is 14kms from International Airport / Railway Station, of Trivandrum, the capital city of Kerala. The private beach has direct access from the resort.
---
The Uday Samudra Beach Hotel, Kovalam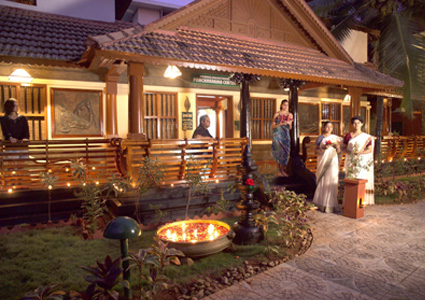 The Uday Samudra Beach Hotel is located on the Samudra beach, a part of the famous beach Kovalam in Kerala, India. Away from the din of the city, along with a private beach, The Uday Samudra Beach Resort is a favorite destination for couples on a honeymoon. The calm Samudra Beach offers an ideal setting for sunbathers and peace lovers. Known for its traditional hospitality, the Uday Samudra Beach resort also houses an Ayurvedic Center, thus making it a hub for tourists in need for rejuvenation.