India Tourism >> Indian Hotel >>
--»
Udaipur Hotels
Udai Vilas Palace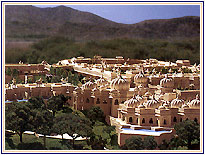 A legendary palace standing on a peaceful island "Bramhapuri" on the western Banks of Pichola Lake, Overlooking the magnificent city palace. The oldest jagdish Temple ,Bathing Ghats and Embankments. West Zone culture Center of India which happens to be historical Bagore ki haveli is also situated on the opposite ghat.
Beautiful balconies with a commanding view of ancient city and serene waters of Pichola Lake. The rooms have oriental furniture and decor befitting a palatial abode. Relax in calm and beautiful surrounding. This is the right place for the lovers of Nature. Those who dream of living in paradise on Earth must visit us and see the divine and enchanting lake Pichola and the heritage city.
Due to open in August 2002, this luxury spa resort is located on the famous Pichola Lake & has been designed as a traditional Rajasthani palace. The resort is set in 30 acres of beautifully landscaped gardens, decorative fountains & pavilions, giving it a genuine Rajasthani ambience.
Most of the guest rooms have uninterrupted views of the Pichola Lake & the City Palace. The hotel is in ideal base from which to explore the fabled 16th century town of Udaipur. Also called Venice of the East.
Location:
The Oberoi Group's new luxury resorts, located on the famous Pichola Lake, has been designed as a traditional Rajasthani Palace. The resort is set in thirty acres of beautifully landscaped gardens, decorative fountains and pavilions,
giving it a genuine Rajasthani ambience.
Many of the guest rooms have uninterrupted views of the Pichola Lake and City Palace.
30 kms from the Airport, 15 kms from the Railway Station
Accomodation: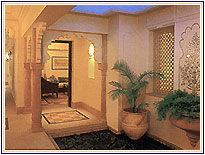 Udaivilas has 87 rooms. 63 Deluxe, 19 Superior Deluxe, 4 Deluxe Suites and 1 Kohinoor Suite. All rooms are in excess of 550 square feet.
All rooms feature a personal bar, tea and coffee maker, telephone with data port, satellite television, compact disc and digital video player and an electronic safe.
Deluxe Rooms
Spacious and elegantly appointed, the Deluxe rooms are over 600 square feet in area. The rooms are stately and opulent with the added convenience of state of the art amenities. The large marble bathrooms have Victorian free standing bathtubs, shower stalls separate from the bathtubs, and overlook private walled courtyards.
Deluxe Rooms with semi-private pools
Combining the grace and luxury of a bygone era with modern amenities, these rooms have a swimming pool running along their private terraces, overlooking the lake and palaces. Some overlook a conservatory that houses Indian spotted deer, wild boar and peacock. The luxurious marble bathrooms have Victorian style freestanding bathtubs and overlook private walled courtyards.
Luxury Suite with pool
All Luxury Suites occupy an area of 1,150 square feet each. The private swimming pools and finely appointed interiors make these Suites a haven of luxury. Enjoy romantic al-fresco dining by the pool in the evening. The bathrooms are large and luxurious, with Victorian style freestanding bathtubs.
Kohinoor Suite
The majestic Presidential Suite occupies an area of 2,650 square feet. Luxuriate in the opulent interiors of this royal retreat. With two bedrooms, the Kohinoor Suite also features two working fireplaces.
Recreation & Leisure:
Two large swimming pools, heated during the winter.
Library offering a selection of books, music and video discs.
The Spa:
The professionally run non-clinical Spa has private therapy suites. An Oasis of tranquility, a sanctuary where you can balance mind, body and soul. A selection of treatments ranging from Ayurveda to Aromatherapy.
Services & Facilities:
Services
24 hour Butler Service, Baby sitting, Beauty Salon, Boat Rides, Boutique, Currency exchange, Complimentary, Limousine transfer to and from airport, Daily Fruit Basket and Newspaper, In Room Dining, Laundry, Limousine Rental, SPA, Library offering movies and audio CDs
Amenities
Air Conditioning, Computer Data Point, DVD Player, Cordless Telephone, Electronic Safe, Electric Shaver Socket, Hair Dryer, International Direct Dial, Minibar, Plush Bathrobes and Slippers, Tea Coffee Making Facility, Telephone in Bathroom, Walk-in Closet
Restaurants and Bar
Surya Mahal
The main dining room, offers Continental and Asian cuisines. It is open for breakfast lunch and dinner. The courtyard adjoining the restaurant is the perfect setting for al fresco dining. Gas torches cast a sense of drama over live performances of music and dance in the evenings
Udaimahal - The Indian Restaurant
Udai Mahal, the specialty Indian restaurant, offers traditional Rajasthani and North Indian cuisine and its special menu have been developed following
meticulous research in the traditional royal kitchens of Rajasthan. Udai Mahal is open only for dinner. The domes over Udai Mahal represent the night sky and the Udaipur cityscape. The vibrancy and richness of Indian and Rajasthani culture are reflected in the blue, green and gold colour scheme.
The Bar
The bar, warm and inviting with hand knotted carpets and comfortable seating, offers a breathtaking view of the Lake Pichola and the City Palace. It offers afternoon tea, a wide selection of international beverages and wines, cocktails, coffees and cigars. Ideal for a relaxed evening, it has chess, backgammon, scrabble and a collection of books on India and Rajasthan.
Ahar :
The ancient capital of sisodias, 3 Km from Udaipur, Ahar boasts of a profusion of royal cenotaphs of the rulers of Mewar. A rare collection of antiquities including earthen pots, iron objects and other art items excavated in the region are displayed in a small Govt. museum.
Sajjan Garh :
Dominating the city's skyline is the monsoon palace of sajjan Garh. It offers a panoramic overview of the city's lakes, palaces and the surrounding countryside.
Gulab Bagh :
A spectacular rose Garden laid out by maharana Sanjjan Singh A library in the garden has a rare collection of ancient handwritten manuscripts and books.
Click here to Book this Hotel