India Tourism >> Indian Hotel >>
--»
Shimla Hotels
Oberoi Cecil
Over 100 years old, the Oberoi Cecil is a Grand Heritage Hotel. It is situated at Chaura Maidan, Shimla, 7000 feet up in the Himalaya.
Built in 1884 as a Himalayan hill station, the hotel has been extensively renovated and reopened in 1997.
With fabulous views across the valley, The Oberoi Cecil is a perfect base from which to explore the spectacular mountain scenery, cedar forests and ancient monasteries of this world famous destination.
The Cecil is within walking distance of the famous Vice Regal Lodge, former summer residence of the Viceroy of India.
The Cecil's classically elegant interiors with panelling, pillars and chandeliers recall the days of the Raj. Many rooms at the Cecil have views across the valley and snow covered peaks of the Himalaya.
Accomodation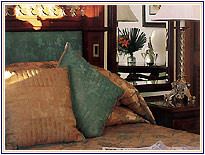 All 79 Rooms and Suites at the Cecil are spacious, elegant and comfortable. Many rooms have spectacular views across the mountains. All 27 Premium rooms have private balconies and DVD players.
The 22 Deluxe rooms are bigger and have an electronic safe. All three Executive Suites feature a separate living room and walk-in wardrobes.
The Deluxe Suite has separate living room and bedroom, a separate dressing area and additional walk-in closet and a private balcony.
Interconnecting rooms are available. All rooms offer 24hr in-room dining, a round-the-clock laundry service and dual-line speakerphones.
Rooms are decorated classically, with polished wood, brass and rich, subtle fabrics in a style which recalls the late 19th century, yet feature every modern comfort. There is a babysitting service and baby cribs are available.
Dining Room
The hotel has a restaurant offering a selection of European and Asian dishes. Wood panelling and chandeliers add to an air of old-world elegance. Special rates for children apply at all mealtimes. Regular theme evenings in the Restaurant celebrate the Indian and colonial heritage of the Cecil.
The restaurant is open from 7am-10.30am for breakfast, 12.30-2.30pm for lunch and 7.30pm-11pm for dinner.
The Lounge
The Lobby Lounge in the soaring five-storey galleried Atrium also has a Bar. Here guests can enjoy tea or a quiet drink in front of a roaring fire. The Bar opens between 11am and 11pm.
Cedar Garden
At the outdoor Cedar Garden, light meals, snacks and drinks are served between 11am and 3pm.
24hour in-room dining is available throughout the hotel.
Click here to Book this Hotel