India Tourism >> Indian Hotel >>
--»
Shimla Hotels
Hotel Asia Dawn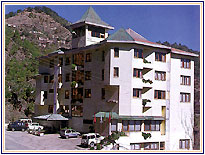 Come, discover the simple yet elegant art of living at "Hotel Asia The Dawn", located in a manner so as to give a grand, sweeping view of the breath taking scenario all around.
It has been conceived in a manner, to provide you the ultimate in comfort, luxury and relaxation. Experience the exotic feeling close to the twinkling stars and the beautiful moon light in the evenings.
"Hotel Asia The Dawn" provides you facilities like, Health Club with "Jacuzzi" whirlpool, Steam and Sauna room and massage room - One can sweat it out and get into terrific shapes, 24 hour Currency Exchange, Hotel-doctor on call, Safe Deposit Vaults, Ample Parking Space and a Gift Shop - clearly reflecting that customer Satisfaction is our prime concern.
They are committed to give their guests the shade of exclusivity which is always appreciated. So, take a break from the hustle-bustle of your daily life and surrender yourself to the beauty of nature at "Asia the Dawn". Distance 20 kms from Airport, Total 41 Rooms.
Accommodation
38 spacious and exclusively decorated rooms and luxury suits with Pipe Music, Cable TV to provide you entertainment throughout the day. All rooms have direct dialing facility which ensures that everything you want is at your fingertips.
Restaurant Honey Dew
If you have an insatiable appetite for delicious cuisine, this restaurant will treat your palate with Continental, Chinese and Indian food.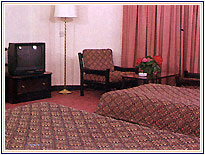 Bar Vintage
Come sunset, this well stocked bar is transformed into, perhaps, the most exclusive establishments serving exquisite brands of liquor.
Banquet
Those who like to mix business with pleasure, there is a large Banquet hall with a capacity of over 100 seats. Equipped with the latest audio-video equipment, it is ideal for conferences and meetings, Seating capacity of 100 people in theatre style and 45 in U shape with all business center facilities like OHP, Slide projector, Mike, T.V., V.C.R., Podium Stage etc.
Click here to Book this Hotel