India Tourism >> Indian Hotel >>
--»
Neemrana Hotels
Neemrana Fort
This heritage hotel is located halfway between Delhi & Jaipur in Rajasthan. Perched on a low hill in the Aravali range, Neemrana was the home of a Hindu Prince, who was killed in battle with the invading Muslims.
This 15th Century Fort, which was restored & converted into a hotel in 1991, is one of India`s finest retreats. You can plan to explore the nearby traditional Rajasthani Village, with its ancient stepwell- an enormous underground well with wraparound staircases & sitting areas on each level, where people would take refuge during the heat.
Location
122 km from Delhi, 140 km from Jaipur on Delhi-Jaipur highway.
Accomodation
The Fort has 40 rooms & suites which can accommodate 104 guests. Most of the suites have private balcony. The suites are in various categories providing one single bed to two double beds. All suites are different in size and shape and are most elegantly furnished.
Dining
Breakfast:
Raj Mahal, Hawa Mahal.
Lunch & Dinner:
Aam Khas, Panch Mahal, Amaltasse, Aranya Mahal, Holi Kund.
Snacks:
Hawa Mahal, Maha Burj.
Services & Facilities
Swimming Pool, Health Club, Court yards, Dinning Hall, Conference room and terraces for magnificent view of the valley.
Recreation & Leisure
¤ Bar, pool, health club, indoor game room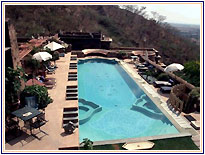 ¤ Sariska Tiger Reserve is one hour drive away
Tariff
The Fort Palace Resort offers 40 rooms & suites.
Type of Rooms -
¤ Single ¤ Double ¤ Suites
Click here to Book this Hotel