India Tourism >> Indian Hotel >>
--»
Corbett Hotels
Infinity Resort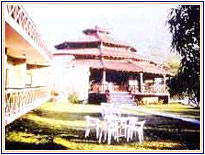 Named after Jim Corbett, the legendary hunter naturalist, Corbett national park was originally established in 1936, as Hailey National Park.
It was later named Ramganga National park, before getting its present name in 1967. This is India's first National Park and one of her finest wildlife sanctuaries.
The park stretches over an area of 1300 sq. km (503 sq miles) in the Himalayan foothills with open grassland, sal and riverine forest and the beautiful life-giving Ramganga River that flows through almost its entire length.
Activities :-
Infinity resorts acts as base or part of a circuit for one or several day excursions into the Kumaon hills on the excellent network of roads. Activities from the Resorts include game viewing drives and bird-watching outing, all accompanied by our experienced resident naturalists.
Arrangements can be made to combine a stay at infinity resorts with an overnight stay at dhikala, gairal or sarapduli forest rest houses situated inside the Corbett national park, subject to availability of the forest rest houses.
The area is famed for its excellent Mahaseer fishing, the great sporting fish of the subcontinent. Fishing trips can be arranged for enthusiasts.
One can enjoy unrivaled views of the snow peaks of the Himalyas, leisurely boat trips on the Nainital lake and pony treks through untouched pine forests.
A little further is Almora the starting point for several treks including one to the Pinder Glacier and the old pilgrimage route to Mount Kailash in distant Tibet.
Also within easy reach is white water rating on the Ganga at Rishikesh, on the ancient pilgrimage route to Kedarnath, Badrinath and Gangotri.
Click here to Book this Hotel