Home
||
Wildlife Tours in India
|| Camel Safari in Rajasthan
Camel Safari in Rajasthan
Duration :
3 Nights / 4 Days
Destination Covered :
Jaisalmer - Bikaner
Day 1
Dri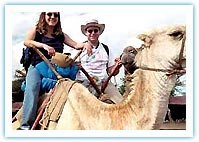 ve from Jaisalmer to the starting point of camel trek at village Bungri via Pokaran-Phalodi-Khichan-Au-Choutina(Laxman Nagar). Khichan, Au, Choutina is on Phalodi-Nagor road. From Choutina (Laxman Nagar) turn north for Bungri which is nearly 23 Kms. from Choutina. Totally it will be distance of 245Kms. approx from Jaisalmer. Lunch will be served on arrival at village Bungri. After lunch begin camel trek from village Bungri to Meghwalon-Ki-Dhani. Arrive at Meghwalon-Ki-Dhani and camp. Dinner will be served at camp over night in the tents. Today's camel trek will be of 2 hrs. approx. (14 Km)
Village description - Bungri is a Rajput village with composition of the other occupational casts. The people of all the casts are basically farmers and cattle breeders.
Day 2
Breakfast at the camp and camel trek Meghwalon-Ki-Dhani to Sainsar. Lunch on the way during the trek. Arrive Sainsar and camp. Dinner will be served in the camp over night in the tents. Today's camel trek will be of 22 Kms. approx.
Village description- Meghwalon-Ki-Dhani is a small settlement of few huts. Dhani in Desert means temporary dwelling and now a days these small hamlets(Dhanis) tend to gain permanent character with growing means of transport and communication in the desert. More and more families tend to break away from the villages and start settling down in Dhanis permanently. Meghwalon-Ki-Dhani is a small hamlet where lives a low cast working on leather. Sainsar is a village where a lot of Bishnoi people live. Bishnoi people are nature worshipers and they worship the desert antelope - 'Gazzel'.
Day 3
Continue camel trek from Sainsar village to Pratapa Nada. Camp will be at Pratapa Nada. Today's camel trek will be of 21 Km approx.
Village d
escription - Today's camel trek will pass through beautiful desert landscape and villages of Rajputs, Jats, Charans, and Dhanis of Nayaks (the hunter cast of old days). Also desert animals like antelopes (Gazzal), Desert Fox, Rabbits, Reptiles and birds may be spotted if one is lucky. Among the casts Charans of village Ratariya are worth mentioning. Charans in the olden times used to compose and Sing poetry in praise of the nobles and there feudal lords. It was an oral tradition of poetry in a very old language called dingal. Nowadays only a few surviving persons in this Charan cast keep this tradition alive.
Day 4
Continue camel trek from Pratapa Nada to village Dhingsari where the trek will end. Lunch will be served at village Dhingsari. Drive to Bikaner via Kishnasar, Janglu, Jegla and Deshnoke. On the way back to Bikaner Deshnoke Rats Temple can be visited. Today's camel trek will be of 15 Km approx.
Village description - Dhingsari is the village of Rajput cast. The main cast living in this village is called Rajvi - they are the direct descendants of the brother of the 14th Maharaja of Bikaner.
Arrive at Bikaner and check in the hotel to freshen up. Have lunch and sightseeing before taking the train to Delhi or proceed to the next destination.

Click here for More Details......