Home
||
Kerala Tourism
|| Art & Culture of Kerala

Art & Culture of Kerala
S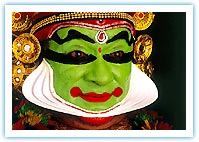 pectacular visual effects and stunning music are hallmarks of Kerala's performing arts. In a land which cannot boast of monumental architectural feats, unlike many other parts of India, the performing arts, both individually and collectively, make up for the lost magnificence. No other State in India can match the grandeur and creativity of Kerala's performing arts. The classical and ritual arts of Kerala have always enjoyed a rich patronage, from the former kings who ruled the state to the latter day democratic governments.
Kerala's unique selling point is its rich culture which was mellowed by centuries-old rich heritage. Culture and heritage are pervasive presence across the state and are kept alive through the state's performing arts.
Performing arts, a slice of culture
Kerala's performing arts are feast to the eyes of tourists. A sheer variety of art forms, when performed by consummate artistes with the requisite paraphernalia make watching them worth. Legends and legendary characters resurrect from the dog-eared pages of history books and make their apparitions on the stages leaving the audience in ecstasy. The attire, roves and facial expressions of the artistes are a sumptuous treat for eyes. Centuries down, Kerala's performing arts had enjoyed the patronage and pats from successive rulers. Besides, the now defunct feudal system had also contributed for the nourishment of art and culture. The Northern region of the state is a repertoire of arts and culture. Many of these performing arts are enmeshed with the cultural history of religious communities. While classical art forms such as Kathalkali and Bharathayatyam were the stronghold of upper class, those from lower strata of the society performed dance forms such as theyyam and padayani. If the former class performed in the temple premises and specially erected stages, the later had to venture on streets to show their artistic prowess.

Beside
s, the aborigines of the state have their own art forms. Cherumarkali, a harvest dance is one among them. Dancers, men and women, with hands entwined, waltz rhythmically to the drumbeats. They will send you into trance. Rapturous moments for audience. Dainty world of performing arts. Engrossing ensemble of dance and folk arts.
Flamboyant cultural procession is an integral part of any festival here. In temple fests, deities adorned with glittering jewels and colorful garlands are shouldered in the procession to the accompaniment of chanting of hymns, blowing of conches and playing of nadswaram.
Thrissur Pooram, the spectacle of splendour, is the greatest cultural extravaganza in Kerala. Celebrated on First May every year, this is also the stage for the biggest show of pyrotechnics.

Click here for More Details......