India Tourism >> Indian Hotel >>
--»
Agra Hotels
Hotel Atithi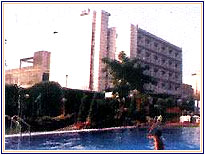 Agra, the historical city of India, was once the Capital city of Great Mughal Umpire. The rich Dynasty has pleasure to make the monuments of Love and Faith.
Taj and Fatehpur Sikri are the consequent of this tradition, Atithi Devo Bhav is human truth a symbol of Indian Hospitality.
They treat their guests as good as God and try their best to satisfy the guest at their level best. Hotel "Atithi" is also one of those to keep the same standard.
Also keep in the same standard of traditional Indian hospitality and centrally located in the Tourist Complex Area.
Accommodation
44 Luxurious rooms are well decorated and designed to give you utmost comfort, The rooms are well furnished with attached bath, Color TV, with 20 channels, running hot and cold water
Restaurants and Bars
A.C. Restaurant "SWADAN" & "SUKOON" and Pool-side Cafertaria "SAROVAR" serves delicious Indian, Chinese, Continental, Mughlai dishes with connessior's taste in gracious surrounding.

Conference Hall -
Their Conference Hall "Goshthi" is well equipped for Receptions & Theme parties. May it be any occasion, They at Atithi cater to the best of your need.
Facility-
Swimming Pool, Minibar in Room, Room Service 24 Hrs., Lush Green Garden, Restaurant, Coffee Shop, Beer Bar etc.Hotel Atithi's spacious and evergreen lawns will sooth you from your weary day, with an air of blooming flowers you can enjoy breakfast in the open air garden and enjoy a dip in "Lagoon", the swimming pool.
Click here to Book this Hotel