Home
||
Taj Mahal, Agra
|| Mumtaz Mahal
Mumtaz Mahal
The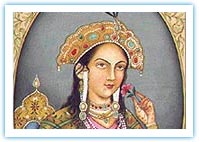 story of Taj Mahal is inseparable from the life of Mumtaz Mahal who was the chief queen of Shahjahan. Prince Khurram, as Shahjahan was known before he became the Mughal emperor, was a handsome twenty-year-old man, when he was betrothed to Mumtaz.
It is said that the imperial capital of Agra was agog with the description of her beauty at the time of the betrothal. The maiden name of Mumtaz Mahal was Arjumand Banu Begum.
Prince Khurram had been married twice before he met and married Mumtaz Mahal. Mumtaz bore him 13 children and accompanied him wherever he went.
On June 17, 1631 Mumtaz Mahal breathed her last after delivering her 14th child, at the age of 39. Saddened by her sudden demise, Shahjahan resolved to immortalize their love.
It is said that Mumtaz Mahal on her deathbed had herself asked her husband to create a symbol of their love for posterity. Shahjahan is said to have accepted her proposal and resolved to do so.
According to another school of thought however, no such conversation transpired between the two and the grief stricken emperor decided to build the Taj Mahal to immortalize the memory of his beloved queen, on his own.
Either, way the Taj remains as whimsical in conception as it is majestic in construction. Before the construction of Taj Mahal began, Mumtaz Mahal was given a temporary burial in the Zainabadi garden in Burhanpur for a period of six months, before the body was exhumed and brought to Agra, for the final burial.
Taj Mahal is a monument of love. Taj is the pride of India. The story behind Taj Mahal is also as beautiful as the monument. It is the love story of a prince and a beauty girl that turned into a legend.

Click here for More Details......