India Tourism >> Indian Hotel >>
--»
Udaipur Hotels
Fateh Prakash Palace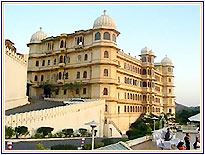 Fateh Prakash Palace is yet another Wonder in the City Palace Compound in Udaipur. The original Palace converted Hotel is Classified as a Grand Heritage Palace and has won national tourism award for best hotel in its category.
Owned and managed by hospitality masters- HRH Group of Hotels, the imposing lakeside Fateh Prakash Palace recapitulates royal traditions and lifestyles in its antique furniture, original paintings and opulent interiors.
Its serene premises and picturesque views of Lake Pichola, Jagmandir Island Palace, Lake Palace and the Sajjangarh Fort, promise a soothing break from the rigors of city life. The magnificent Durbar Hall, the exclusive Gallery Restaurant and the dazzling Crystal Gallery complete the royal repertoire of unparalleled experiences at Fateh Prakash Palace.
The Fateh Prakash Palace Hotel Udaipur is a part of the City Palace Complex. Built in early years of the 20th century during the reign of Maharana Fateh Singhji, the Fateh Prakash Palace Hotel Udaipur is situated on the shore of Lake Pichola and presently comprises of seven regular suites and nine rooms, making it one of the most exclusive Palace Resorts in India.
Each suite at the Fateh Prakash Palace Hotel Udaipur is decorated to provide sumptuous comfort and features original portraits and antique furniture. The spirit of the palacehas been kept alive and a stay at the Fateh Prakash Palace Hotel Udaipur will give guests a taste of the royal life-style. All modern amenities have of course been provided for the convenience of the guest.
Fateh Prakash Palace Hotel Udaipur has all of the amenities, facilities and levels of comfort you would expect from a hotel of this class,
and maintains the meticulous standards required by travel and tour operators worldwide. For your reservation at the Fateh Prakash Palace Hotel Udaipur, simply submit your requested dates below and complete our secure online booking form.
Accomodation:
Dovecote Rooms:
21 ,
Regal Lake facing Suite:
4 ,
Regal Suite:
3
Each suite at Fateh Prakash Palace is decorated with original portraits and period furniture, which have been in the family for generations. The recently opened Dovecote wing has all the rooms facing Lake Pichola. Each room has been designed to give maximum comfort and a sweeping view of the lake with the Jagmandir Island Palace and Lake Palace.
Dovecote Rooms
These are newly renovated rooms with sweeping views of the Lake Pichola, Lake Palace, Sajjangarh, and Jagmandir. Equipped with most modern facilities, e.g. Central air conditioning, hydro pneumatic water supply system, etc. They are the best rooms among all the hotels in its category (deluxe room)
Regal Suite
The Regal Suites at Fateh Prakash Palace are most memorable as they make you feel "Emperor of a Dynasty". It shares a superb royal experience.
Decorated with original Mewar School of Art paintings and antique Victorian furniture, including brass beds.
The Turret Suite here is Built in the turret, an octagonal room with sit-in windows overlooking Lake Pichola.
Services & Facilities:
The regular services offered at the Fateh Prakash Palace include: Room Service, Mini Bar, TV, Telephone ISD/STD, Hair Dryer, Doctor on Call, Laundry, Fax, Money Exchange, Travel Desk, Safety Locker, Personalized Butler Service.
One could also take a Boat ride in Lake Pichola arranged by HRH.
Restaurants
Gallery Restaurant
Sunset Restaurant
Click here to Book this Hotel