India Tourism >> Indian Hotel >>
--»
Shimla Hotels
Hotel Woodville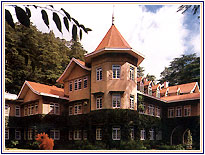 Woodville palace has a history dating back to 1866 when Sir William Mansfield, Commander-in-Chief of the imperial army became the first resident of the charming estate.
The palace was reconstructed in 1938 by the Rana of Jubbal when hundreds of expert artisans were brought from far and wide to ensure the highest quality of craftsmanship.
Kanwar Udai Singh opened a part of the mansion as a guest house in 1977 and today, the palace is one of the finest places to stay in Shimla.
Situated at an altitude of 7000 feet, far away from the sweltering plains of northern India, Shimla was once a nondescript village.
It became popular with the British in the 1830s and later became the summer capital of the imperial government.
Enticed by its salubrious character, the British ended up spending more time at this 'hill station' than at the real capital which was at Calcutta.
Today, it is the state capital of Himachal Pradesh and holds the lingering echoes of a bygone era.
Facilities:
15 rooms, including royal cottage and suites , Telephone in rooms , Television with satellite channels in rooms , Running hot and cold water , Indian, Continental and Regional cuisine, Major credit cards accepted , Tennis, billiards, table-tennis and badminton , Doctor on call, Golden Tiger Lounge with a galaxy of photographs signed by Hollywood stars of the gracious era of the '30s , Green lawns , Car parking
Click here to Book this Hotel