India Tourism >> Indian Hotel >>
--»
Mangalore Hotels
Mangalore Hotels
Hotel Pooja International, Mangalore
S
ituated in the
heart of the Mangalore city, Hotel Poonja International, known for its warm atmosphere, captures the essence of the city and more. The efficiency and the professionalism of its staff are well known and your experience at the hotel will definitely be delightful to your senses. Due to its close proximity to the airport, railway station and bus stand, hotel Poonja International is the first choice of the discerning traveler. Major shopping, entertainment and commercial areas are also within ambling distance from the hotel.
---
---
Address:

Moti Mahal
Falnir Road,
Mangalore - 575 001
Karnataka, India.

Category
3 Star (Government Approved)


Accessibility:
Airport : 21 kms (Bajpe Airport)

Railway Station : 1 kms (Mangalore Railway Station)

Bus Stand : 3 kms (K.S.R.T.C Bus Stand)

---
Taj Manjarun Hotel, Mangalore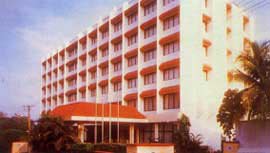 Taj Manjarun Hotel
overlooks the picturesque sea and tranquil Netravati and Gurupur rivers. Bubbling with energy and with elegant Indian design cues, Manjarun Hotel provides warm hospitable service with a distinctly personal touch.
Copyright © All Right Reserved