India Tourism >> Indian Hotel >>
--»
Hyderabad Hotels
Taj Residency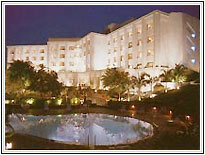 Located in Hyderabad's elite Banjara Hills, this elegant hotel offers a welcome respite for both leisure and business travellers alike. Spread over six acres of landscaped gardens, it is conveniently located 6 km from the airport and 5 km from the railway station.
Rooms and Suites at Taj Residency, Hyderabad
All guestrooms offer excellent amenities and stylish comfort
Standard Rooms
Tastefully appointed and well equipped with guest amenities including wireless Internet connectivity, flat screen TVs, two-line speaker phone with international direct dial, safe deposit lockers (for laptops as well), and DVD players (on request).
Residency Rooms
Well equipped to cater to the needs of business and leisure travellers alike. In addition to the above guest amenities, they offer complimentary breakfast, tea/coffee throughout the day, cocktail hour in the evening in the Residency Lounge, and use of the Lounge Boardroom.
Suites
Tastefully furnished suites composed of a bedroom and a sitting room. Include all the above guest amenities.
Facilities and Services at Taj Residency, Hyderabad
Guests can look forward to our quality facilities and distinctive services.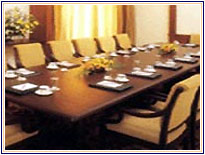 Hotel Business Services include:
- Business Centre
- Colour copier
- Laptop computers on hire
- Mobile phones on hire
- Multimedia computers
- Portable printers on hire
- Secretarial services
- Translation/interpretation services
- Wireless Internet access
- Workstations.
Food and Wine
From casual, all-day eateries to formal, fine dining, guests can look forward to a wide selection of delectable dishes and refreshing drinks.
At Taj, we offer a distinctive dining experience, one that explores the nuances of the finest Indian and international cuisines, serving traditional and contemporary favourites.
Atrium Bar:
This relaxing bar exudes a contemporary yet intimate atmosphere.
Attire: Casual
The Blue Flower: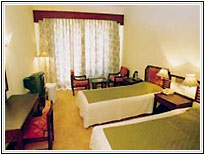 At the Blue Flower, cozy ambience and fine cuisine create a special dining experience.
Attire: Casual
The Paradise Lounge:
Offering an inviting atrium, this 24-hour coffee shop provides great views and cuisine.
Attire: Casual
Recreation at Taj Residency, Hyderabad
Guests can take advantage of our recreation activities for irresistible fun and relaxation.
Fitness and fun include:
- Bookshop
- Fitness Centre
- Shopping arcade
- Souvenir shop
- Swimming pool
Click here to Book this Hotel