India Tourism >> Indian Hotel >>
--»

Hotel Broadway, New Delhi

Hotel Broadway was built in 1956 as Delhi's first modern, high-rise building by Mr. Tirath Ram Amla, a businessman from Kashmir. His vision was to build an affordable clean family hotel and his main management mantra to ensure that each guest was treated by each staff member as his 'own personal guest'.
Location : 18 kms. from I.G.I. Airport, 1.5 kms. from New Delhi Railway Station.
Accommodation : 26 Rooms.
Banquet & Conference : Hall - 1.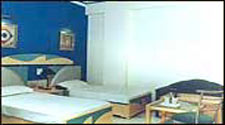 Cuisine : Kashmiri, Mughlai & Tandoori.
Dining : Restaurants - 1, Bar - 2.
Accepted Cards : All major credit cards accepted.
Address : 4/15 A, Asaf Ali Road, New Delhi - 110 002