India Tourism >> Indian Hotel >>
--»
Corbett Hotels
Corbett Riverside Resort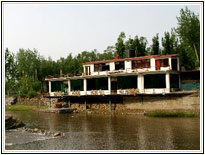 Corbett Riverside Resort - Located on the edge of Corbett National Park and reserve forest, the Kosi River runs alongside the resort for a kilometer, flanked by cliffs and forest. This luxury jungle resort bordered by thousands of acres of unspoiled reserve forest and winding trails is ideal for a relaxing holiday to renew your spirit.
The magical call of the wild is answered at Corbett Riverside Resort. A Luxury jungle resort adjoining the famous Corbett National Park. With its natural beauty, serenity and proximity to the National Park and the Reserve Forest, the resort provides a unique opportunity to enjoy wild life within natural habitat.
Accommodation & Facilities
Accommodation - Almost every room in the hotel has a breath-taking view of the hills or the river Kosi.
Suites :
The suites have a large bedroom with a fireplace and a sitting area. The rooms are large airy with plenty of daylight, offering a sun-soaked calm and laid back environment.
Double Rooms :
Are large airy rooms with king-size beds. Bathrooms are well fitted with modern amentities and showers with 24-hour hot water. Much of the furniture is traditional
Corbett Riverside resort offers a mix of pleasure and work for companies looking for a venue not far from Delhi. An easy drive or train-ride away from the capital city, we offer a good venue for conferences. Our 50-people conference room,
spanning 1,000 total square feet and apply leading edge, computerized is an ideal location for management offsite meetings, brainstorming and business planning sessions.
Activities
Other Outdoor recreational activities:
Swimming Pool :
The Resort offers a large swimming giving a breath taking the forests and cliffs that surround it.
Sports :
The resort has volleyball and badminton courts. Equipment is available on request..
Restaurant
The menu is a la carte Indian, Chinese, Continental, Tandoori and Bar-be-que on order, cooked by expert chefs. The resort offers a restaurant, in-house dining room which has beautiful wood paneled walls with a view of the river. All meals are served here.
The restaurant also has an open deck overlooking the river. This is great place to enjoy the resorts specialty, mouth-watering tandoor cooked kebabs.
Click here to Book this Hotel