India Tourism >> Indian Hotel >>
--»
Corbett Hotels
Corbett Hideaway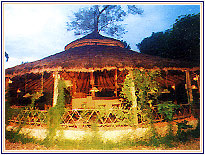 This resort in a mango orchard offers an intimate ambience. The Corbett Hideaway is on the banks of Kosi River & only nine kms. from entrance to the main Corbett Tiger Reserve.
Pebbled walkways leads to the cottages which have baked tiled roofs, stone tiled floors, woven bamboo mat ceilings & fire places.
Corbett Tiger Reserve is the most popular game sanctuary in India with foreign visitors due to its easy accessibility from New Delhi.
Location
Claridges Corbett Hideaway is located close to the Jim Corbett National Park.
Jim Corbett National Park, one of the greatest National Parks of Asia. Five hundred and twenty acres of forests, hills and grasslands, fed by a frisky river.
A bio-diversity that is rich, rare and precious. The perfect habitat for the tiger, elephant, hog deer, birds and other wildlife species fast vanishing from the earth. Corbett Wildlife Sanctuary presents India's best Wildlife Tours to you.
¤ 300 kms from Delhi via Moradabad in Nainital district of Uttaranchal.
¤ 9 kms from Corbett Park.
¤ 15 kms from Ramnagar Railway Station.
¤ 70 kms from Nainital Himalayan Hill Resort

Tariff
Types of Rooms Available at Corbett Hideaway -
¤ Single Rooms ¤ Deluxe Rooms ¤ Family Rooms

Accomodation
¤ Room Service ¤ H/C Running Water ¤ Telephone, Fax
The burnt red of the cottages forms a restful backdrop to verdant environs. Sloping tiled roofs, cool stone floors with throw rugs, block wood furniture and other details allow maximum comfort while continuing the illusion of being in the wilds.
The accent is clearly on nature. The 40 guest rooms have a clever area separation, for sleeping and for living, as in a suite. You get a sense of miles of extra space.
Double roomed suites are available for groups and families.
All the rooms are air conditioned with hot water in baths, and a refrigerator full of cooling drinks.
Dining
The resort serves excellent continental food and Indian cuisine. And a great variety of it all! The specialities of the Kumaoni region are a favorite feature on the menu.
The emphasis is on freshness of produce. Remember to ask for minestrone soup, which is a wee bit spicy but lipsmacking. And the chicken kakori kababs that give your palate exciting information on gourmet cooking!
Services and Facilities
Apart from a hundred and seventy six mango trees, you can see at the Hideaway a bountiful jackfruit tree near the reception, variegated bamboo including sacaram, bushes of hibiscus, rainflower, gandharaja, ticoma, raat ki rani and haemilia, azalea aplenty, and guava trees which yield fruit three times a year!
The grounds are meant for meandering, loitering, meditating and playing...
A tennis court on the sprawling lawns gives way to the swimming pool with its languid blue waters, very therapeutic after a rigorous safari.
The poolside bar lets you beer as you float. Even greater relaxation techniques are available close by - massage therapy by trained masseurs.
By the time you've worked up a wild appetite, your sense of smell will lead you to the Gol Ghar, the thatched outdoor restaurant which lays out magnificent breakfasts, lunches and dinners. (The nights are generally wilder, with bonfires, entertainment and bonhomie.)
The 20 feet high Gurney House named after the house Jim Corbett lived in for many years, gives you the civilized world.
Billiards, where potting the red might come easier than capturing a tiger with a lens. Lounging, on sofas, while dreaming of the big cat.
Dining, rather lavishly, on freshly cooked exotica, continental and Indian flavours. Or sitting on the deck, and listening to the Kosi. Clinking glasses filled with amber.
Listening raptly to the slide show of the Corbett Hideaway Chief Naturalist in the meeting hall. References about tigers, elephants and birds are available right down the path at the library, a free and easy place where you can sip a cuppa and browse.
THE NATURE SHOP Charming souvenirs and memorabilia are for the picking at The Nature Shop which also stocks herbal cosmetics and fascinating local crafts.
Click here to Book this Hotel